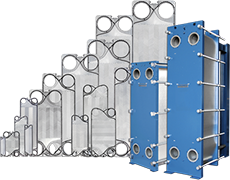 PHE AND PHE PLATES
The plate heat exchanger (PHE) is a specialized design well suited to transferring heat between medium- and low-pressure fluids. Welded, semi-welded and brazed heat exchangers are used for heat exchange between high-pressure fluids or where a more compact product is required,
The unique corrugation pattern pressed onto each thermal plate produces the highest overall heat transfer rate by assuring highly turbulent flow and excellent fluid distribution across the entire surface. With high heat transfer rates and true counter current flow, API Plate Heat Exchangers economically handle close temperature approach requirements.
As virtually all of the material is used for heat transfer, Plate Heat Exchangers can have large amounts of effective heat transfer surface in a small footprint. It is not uncommon that a Plate Heat Exchanger will have the same thermal capacity as a Shell & Tube five times larger.
Highest quality gaskets precisely fit the plate grooves for positive sealing and ease of maintenance. Superior clip-on gasket design ensures proper fit during closing of the unit.
Double sealing design prevents the possibility of mixing the two process fluids. Leak detect feature ensures any leakage is to the atmosphere.
Zinc coated hardware provides long life.
All plate pack tightening is done from the fixed pressure plate to eliminate any stud interference.
All bolted construction for easier service.
Low volumetric fluid hold-up provides quicker response to heating and cooling demands, while reducing costs for more expensive process fluids.
Readily expanded for greater capacities, or totally new applications
Our workshop is fully equipped to clean, crack detect and re-gasket any type of Plate Heat Exchanger.
---
Optimization of Plate Heat Exchangers
To achieve improvement in PHE's, two important factors namely amount of heat transfer and pressure drop have to be considered such that amount of heat transfer needs to be increased and pressure drops need to be decreased.

In plate heat exchangers due to presence of corrugated plate, there is a significant resistance to flow with high friction loss. Thus to design plate heat exchangers, one should consider both factors. For various range of Reynolds numbers, many correlations and chevron angles for plate heat exchangers exist.

The plate geometry is one of the most important factor in heat transfer and pressure drop in plate heat exchangers, however such a feature is not accurately prescribed. In the corrugated plate heat exchangers, because of narrow path between the plates, there is a large pressure capacity and the flow becomes turbulent along the path.

Therefore, it requires more pumping power than the other types of heat exchangers. Therefore, higher heat transfer and less pressure drop are targeted. The shape of plate heat exchanger is very important for industrial applications that is affecting on the pressure drop.
---
REFURBISHMENT OF PHE

Cleaning and Removing Gasket
Old gaskets are removed and the plates are then put through a process of chemical cleaning which involves immersion of the plates in acid and alkali baths.
The process is completed by high pressure rinsing in water.
APPLYING NEW GASKETS
New gaskets are applied to the plates using adhesives when necessary, unless clip type is used.
The plates are re-configured into order, then jig-clamped and oven cured as necessary.
The plates are finally inspected for bonding and fixing prior to despatch..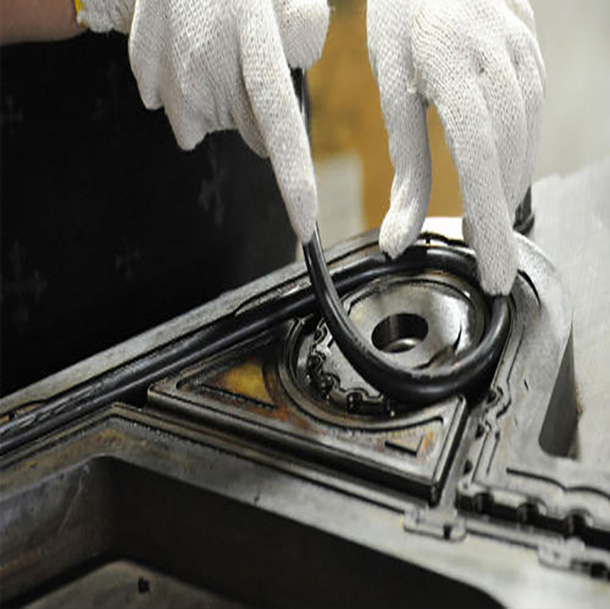 ---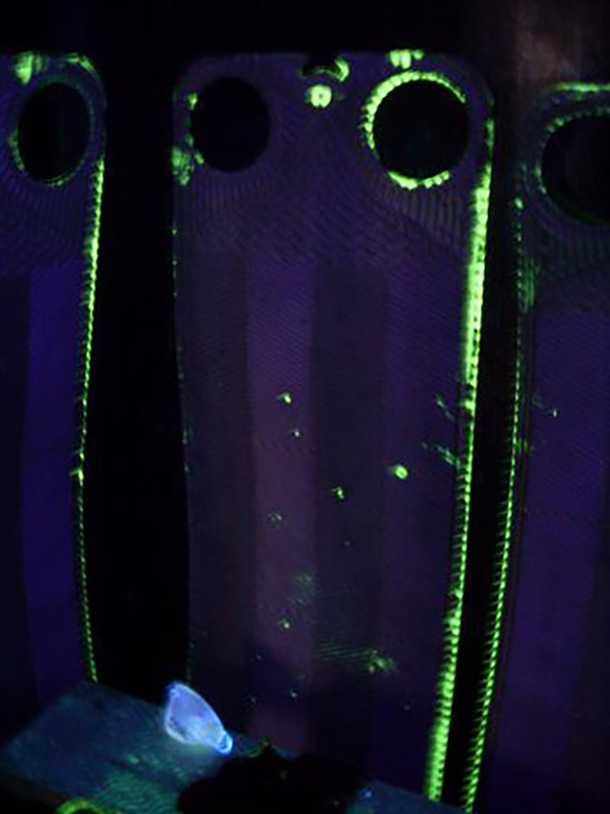 INSPECTION AND DETECTION OF CRACKS IN PHE
Each plate is individually sprayed on one side with a dye penetrant and the opposite side sprayed with a developer.
The plates are then inspected under Ultra Violet light to reveal any cracks or minute pin holes.
Any faulty plates are removed, marked and returned to the client. Replacement plates are offered.
---
Disclaimer
We are not associated with any of the company mentioned above and all the photographs are used for pictorial representation only.